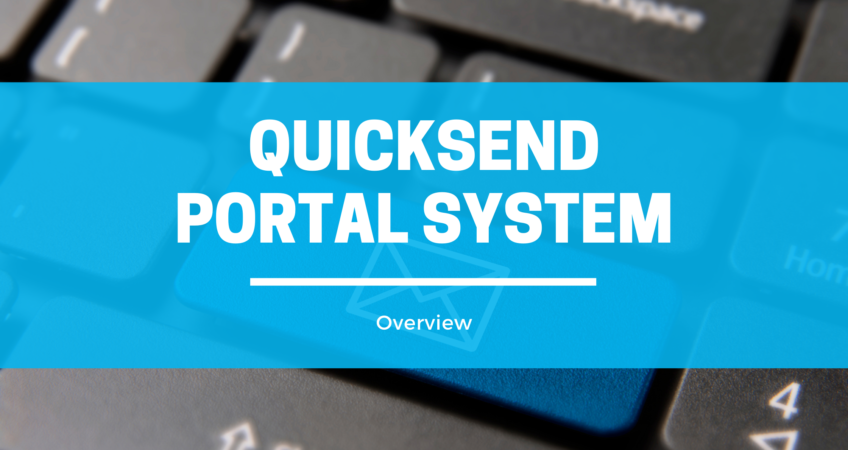 Send Mail Online with Postal Method's QuickSend Portal
The traditional process of printing and mailing letters is time consuming and expensive. Whether you use an in-house solution or outsource to a local print and mail shop, both options take time out of you and your employee's day. With Postal Method's QuickSend Portal System, your company can send mail online and cut back on time and money spent on print and mail operations.
QuickSend is Postal Method's premier service. Over the past year, our team has re-designed every function and added new capabilities that will help businesses tackle the everyday task of print and mail without the hassle of traditional means.
In this post, we will explore the many capabilities of QuickSend using real world examples.
Letter Services:
Compose and Upload a Letter
Our QuickSend service is all online based through our portal system. Our goal is to streamline the process of getting something printed and mailed so you can use that time saved to grow your business. Through QuickSend we have achieved that goal. Here is an example of how our compose and upload a letter service is used.
A lawyer firm in the heart of New York City needs to send a letter to a client. This process could take valuable time out of the firm's day to mail a single letter. With QuickSend, the firm can send mail online using a process that will take only a few minutes. Using QuickSend, a staff member creates the letter in our familiar program with customizable options like font, color and paragraph styles. Once the letter is created, the staff member enters the send to and return addresses then submits the letter. If the staff member has already created the letter using another program like Microsoft Word, he or she will upload that letter then enter the addresses and submit.
This process is easy and time efficient leaving you time to work on more important things.
This service is revolutionary in design and can help businesses send batches of mail easily. Here is an example of the service in practice.
A marketing coordinator at a bank is gearing up to send out a newsletter. She has a CSV file with the information of all the clients. The coordinator can use that file to send the newsletter to everyone on that list. First, she uploads the CSV file to the QuickSend program. Then, using an easy-to-undestand interface, she matches the fields in her file to the fields of the Postal Methods program. Once that is complete, the coordinator uploads the newsletter file. The QuickSend program then creates each document to be mailed.
Multi Documents
Writing, printing and mailing multiple documents is time consuming and Postal Methods wanted to create a process solves this issue. Our Multi Doc online service is one of a kind and a huge part of our offering. Here is an example of Multi Doc in use.
Let's say a hospital department is sending out invoices for the end of the month. The person in charge of this process has the invoices already created in a PDF and is ready to start the printing and mailing process. Our Multi Doc capability is a perfect solution. Once she has uploaded the PDF to our program, she is given three options on how to divide out the PDF. The first is inserting the number of pages per document. The second is identifying a first page indicator. In this case, it could be the company's logo on the first page of the invoice. The final option is manually selecting the pages of PDF that go into each document that is being mailed.
Using Postal Method's QuickSend portal to send mail online is a simple process. Along with our innovative letter services, our portal system has the ability to save templates, verify addresses using the USPS address pool, manage multiple users across departments inside a company and more. Our portal system has the capability of being your in-house print and mail operation without the time and money that comes with traditional processes.
If you would like a demo or have specific needs that you would like to discuss, please call us at
(833) 403-1015 or email us at support@postalmethods.com.