Most people are familiar with Mail Merge in Microsoft Word.  Postal Methods allows you to perform a similar function.   Upload your list of recipients in a CSV (comma delimited) file to merge with a letter template. Match CSV file fields with Postal Methods fields to seamlessly mail letters to all of your desired recipients.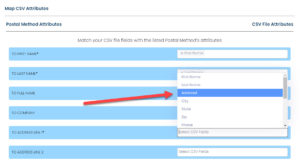 Description:  Enter your description.  This helps you identify your letter if you ever need to look back on it.
Upload CSV file:  If you will be using a CSV file, make sure the option Upload CSV file is selected.
Upload File:  You can drag and drop your CSV file or browse to your computer to select.
Click on Next Step
On this screen you will match your CSV file fields with the standard Postal Methods fields.  The only fields required are for the Send to Address.
To map your fields, click in the area where it says "Select CSV Fields".  This will give you the entries in the first row of your CSV file. Choose the corresponding fields that match the fields on the left side.
You have the choice of mapping To First and To Last Name or To Full Name depending on what you have on your CSV file.
You have the choice of mapping TO CITY STATE ZIP or mapping each one separately using TO CITY, TO STATE, TO ZIP CODE.                  **Do not use Country unless the letter is international
You have additional fields, MISC TEXT  can be used within the body of your mail merge.
Click on Next when you have completed mapping the fields needed for your document.  All fields do not have to be mapped.  The only required fields are the TO address fields.
Choose Template:  If you already have a template created for the Mail Merge, you can select it here.  Otherwise, click on Create Template.
Variables:  You have the opportunity to use variables from your CSV file within your letter as long as you mapped them in your first step.
Type the letter you would like to send.
Click on Next.
You will see a quick preview of your document along with your estimated cost of mailing.
If you are satisfied, click on Send.